I will soon be in charge of weekly crafts at my branch so I am searching high and low for crafts. Thank goodness for the internet. Here is a selection of crafts that I will do at my branch's Valentine's Day program next month.
This heart headgear/crown should be a hit with the young ones. Their parents will have to help them somewhat with the sticking and /or stapling it together. A model of this is sure to serve as a visual enticement for the little ones. They are going to want one "just like that".
Animals made of hearts, how cool is that?! I did this craft last year and it was a huge hit. Some pre-cutting and preparation is needed though as you need to cut the big hearts for the ears as well as the small hearts for the flair and the trunk.
I must have been really amped about Valentine's Day last year because I also did this craft (to great critical acclaim I might add. Using paper plates and pre-cut hearts in different colors I made a love fish. The little ones really loved this one.
I submitted this huge button heart to the craft committee at work. On a piece of plain canvas I used glue and stuck various buttons on. I first traced a heart shape lightly in pencil so I would have lines to follow. I did find however that the buttons as they accumulated began to make it look bulky but the overall effect of the pink hearts on the white or off-white canvas was very nice.
Below is a smaller version of the craft that you can use if you find yourself pressed for time.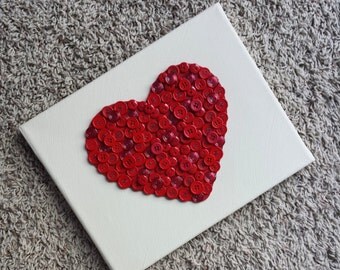 C
ards for
the big day are all the rage but this card not only allows you to put your own touches on it but when it is opened it gives a cool 3d effect that is sure to wow your special someone.