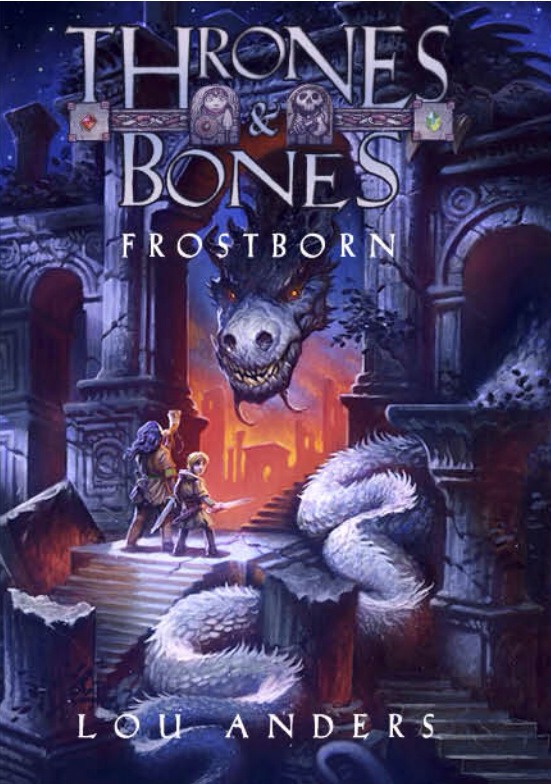 Masters of the fantasy genre like Tolkien and George RR Martin have set the bar very high for this genre but Lou Anders' book, the first in a proposed series is an excellent addition to the genre. This however is a book for the young ones so there are no convoluted plot lines and innumerable characters to keep track of.
The book's title refers to a game that is the favorite pastime of the main character, a Norse boy called Karn. Karn has big dreams but none of them involve becoming the head of his family's large farm, a job which has been passed down in his family for generations. He likes to play Thrones and Bones with his uncle Obi and he enjoys their chats. His father, though slightly disappointed in his son is not overly harsh or unpleasant towards him, a fact that I admired as I am tired of seeing the "harsh dad" trope.
In a parallel story, a giantess called Thianna wishes she were taller so she wouldn't be teased by the "regular" sized giants. Some in particular are very rude and bully her simply because she is smaller (even though she is seven feet tall). She knows little about her mother except what she looks like and other small details but soon her mother's past comes back to haunt her and she must make tough choices as she faces a new frightening reality.
As the cover hints, both of these characters meet and journey around various lands together on an adventure, the details of which I will let you discover for yourself. Anders does a good job of conveying the awkwardness that the characters feel around each other. In a YFIC version of this story I would expect them to fall for each other but in this story the height difference probably precludes such a thing from happening. Tolkien's Smaug is one of the most evil yet endearing creatures in fantasy, but this book has a creature that while not as feared or well known as Smaug is important to the story line nonetheless.
This story is one of those rare books that will appeal to both girls and boys. The themes explored: wanting to fit in with one's peers, dual heritage, wanting to chart one's own course different from your parents are universal. Although we learn little about Karn's four sisters and his mother except in one small mention, Thianna for her part has an important female mentor who teaches her important skills. I highly recommend this book for grades 4-7.