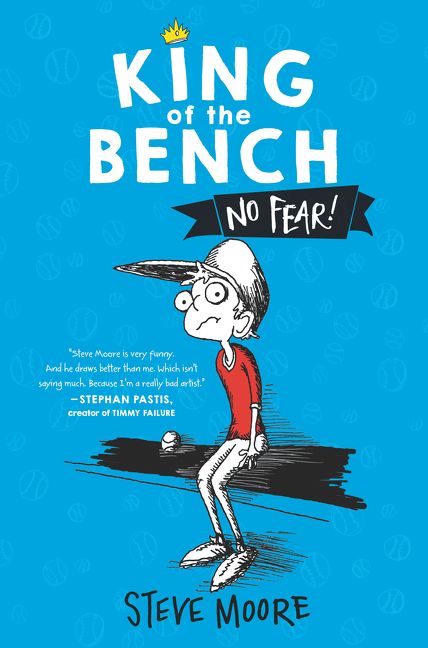 Just when you thought that the middle grade lovable loser category was filled along comes Steve Moore with
No Fear
, the first installment in the King of the Bench series. If you have read all the
Timmy Failure
,
Diary of a Wimpy Kid
and
The Misadventures of Max Crumbly
series then you should make a beeline for this book.
Steve is an average middle schooler with great (if not somewhat overprotective) parents. He desperately wants to be a sports star and baseball is his sport of choice. He has a few problems however: he's not exactly a star athlete, he has a paralyzing phobia and the team already has a few star athletes already, one of whom happens to be a girl he finds attractive.
Steve's weird tryout to get on the team, his daily school routine, his unorthodox pets, his crazy friends and more are all detailed in this laugh-out-loud book (the sporting goods store episode is particularly hilarious as is Carlos' gas issues).
Books like these are formulaic to some extent but I think part of their continuing appeal is that many more athletes than not are average and most kids are average and there's nothing wrong with that. The fact that the main character is named Steve suggests that there may be some autobiographical details
in the book (or not, maybe I'm trying to read too much into it). This is a fun, quick read for grades 3 and up.