I have been reading books to my sons at night before bedtime. I like chapter books that way we can continue a story for a few nights but since I have a nine and a six year old I usually choose books that are just long enough to get through with a week's time, so that usually rules out really in depth ones with lots of characters and plot points. There are lots of books with hijinks galore but I searched high and low to find books with some action but a little bit of science or scientific thinking in there as well..
The DATA set are a group of kids who like Danger, Action Trouble and Adventure. In
March of the Mini Beasts
we see the club encounter an eccentric scientist called Dr. Bunsen. He is working on an invention called a growth ray and when the ray accidentally hits some figurines, these come to life. This book has short chapters but they are packed with a ton of action, chuckles and a bit of suspense as well. Author Ada Hopper has created a great new series here.
Cari Meister's
Buzz Beaker
series features a young boy who tries to solve problems by using various inventions. At last count there were nine books in the series. Some of my favorites are
Buzz Beaker and the Race to School
in which perennially late Buzz must figure out a way to get there on time.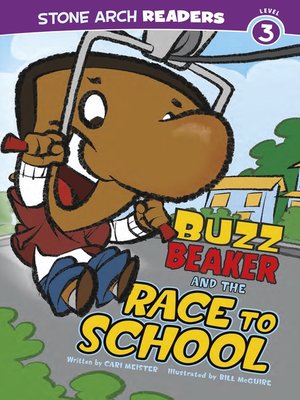 Another good juvenile fiction series featuring an inventor is J.C. Greenburg's
Andrew Lost series.
In
No. 1, On the Dog,
ten-year old Andrew invents a shrinking machine and is sucked into it only to end up on his dog's nose.
With a name like Eliza Boom you can't not be an inventor and this is the case with this young girl whose father is an inventor (and perhaps more) and whose dog is called Einstein. In
My Explosive Diary,
when her father loses some very important document, Eliza, Einstein and her brand-new assistant Amy are called into action.
Patricia Reilly's Zigzag Kids is another good series that talks about the exploits of various kids at a place called the Zigzag Afternoon Center. Book 3 in said series, Flying Feet we meet Charlie, a kid who often thinks of inventions that seldom work. His latest idea just might be able to help Jake the Sweeper get rid of a big pile of trash and save "Come as a Character" day, too.
These are just a tip of the iceberg and with STEM being a buzzword more and more of these books
are coming on the market. Feel free to share some of your faves in the comments!