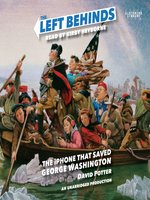 I like a crazy premise and the premise of this tale by David Potter is as crazy as it gets. Three tweens go on a school trip and end up thrown back in time hundreds of years. They soon discover that that they are the only ones who can stop a plot to kill General George Washington. Things aren't that straightforward however because there are some evil men who will stop at nothing to make sure that Washington does not live and, worst of all, the power bar on their phones keeps going down.
Historical fiction can sometimes be tedious but the writing here is tight and the story moves forward nicely. With the moves to Common Core and other testing standards this novel might find a place as an ancillary text to provide back up information after a concept has been taught in class.The historical tidbits are dropped in a very smooth manner.
The three main kid characters are as different as can be but they manage to work together as a team. One of them isn't particularly interested in History or in school work but being thrown headfirst into a major historical event changes his perspective somewhat. As you would expect, some liberties have been taken with facts but Potter makes sure to clarify this in the author's note. There is also a comprehensive list of websites where readers can get more information after their interest has been piqued.
This is not a book with lots of action scenes and fisticuffs but it does have enough things going on to keep you engrossed. Also it includes so much cell phone terminology that it is bound to strike a chord with some readers. The main character's voice is compelling enough that you can't help but root for him. I recommend this book for readers aged 11+