National Hispanic Heritage Month runs from September 15th through October 15th and during this time we recognize the many and varied accomplishments Hispanics and Latinos have made to American culture, politics and life in general. If your city has school groups that do folkloric dance I bet those groups would be willing to perform at community events or at libraries and other community places. Such a program would be excellent and a craft would be the icing on the cake. If no such group is available then crafts are an excellent way to celebrate the month.
Some of these crafts I have done and some I am yet to try. This first craft is one of my all time favorites because it is easy and it allows for an explanation about the tradition of
lucha libre
in the Spanish-speaking world.
I like recycle crafts because I can teach the kids a simple lesson without being too preachy. This particular craft involves using old paper grocery bags to make
sarapes.
Kids can be as creative as they want too and I usually have some made before hand as well as pictures of some so the kids can get an idea of what they're supposed to look like.
Another cool craft that is easy to make and that can be part of a craft/music program is a shaker or maraca. These can be used in a small ensemble and kids usually enjoy shaking the life out of them. Toilet paper rolls, empty tin cans, plastic cups and paper plates can all be used to make these.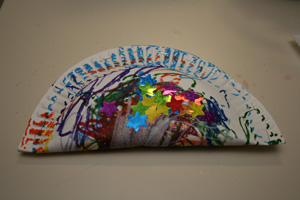 Learning a language is learning a culture and part of that is knowing what certain words are and their significance. A small picture dictionary is a fun way for kids to increase their vocabulary as well as solidify their letter knowledge.
Ojo de dios
are classic crafts and kids of all ages can complete them with a little help and a short demo.
Addtional resources:
Scholastic's Hispanic Heritage Month
site has games, information about famous Latinos as well as a teacher's guide.
Time for kids
is another excellent site with crafts, activities, printables and profiles of influential Hispanic Americans.
Here are some fantastic
books
to share with children about Hispanic Heritage month.
The National Education Association (NEA) has a
trove
of lessons, activities and other ways to celebrate the month.